A mother's journey in search of answers
"I will start by saying this probiotic saved my daughter's life.
"That might sound like an exaggeration but let me tell you the story. I am a mother of two beautiful little girls. My first daughter was a dream baby, very healthy, slept well, transitioned to solids easily, no allergies. When my second daughter was born she developed severe Colic at two weeks old. I worked out that dairy aggravated her Colic, so I went dairy free as she was exclusively breast fed and I was already gluten free, ate well and took probiotics. She still screamed most days for hours on end and hated to be put down. She also had quite bad cradle cap and flaky dry skin.
"At around 15 weeks she really started to settle, she was more content, slept better, didn't scream, was happy to be put in her rocker. Then when she was four and a half months old her sister bought Influenza-A home from daycare. We all got very sick, and I ended up in hospital with her for three days as she was too weak to feed so they had to tube feed her. Ten days after we got home she broke out in a horrible bumpy rash all over her legs. It spread all over her body and she would scratch until it bled. I had to keep her covered from head to toe in clothing and tried to keep mittens on her to prevent scratching. Nappy change time was a night mare because she just wanted to scratch herself to death.

"I went to the local GP who just wanted to give her steroid cream. I saw numerous doctors, paediatricians, naturopaths and herbalists. I tried every cream, homeopathy and probiotic for her and for me. She was still exclusively breast fed so I took every known allergen out of my diet (dairy, gluten, eggs, nuts, soy etc), I tried the FODMAP diet—we did it all. At six and a half months I started to introduce solids, she reacted to banana, pumpkin, pretty much everything. I saw a paediatric allergist who diagnosed her with many allergies—six foolscap pages long! Potentially many were anaphylactic including egg, nuts and diary and also diagnosed her skin condition as Golden Staph (contracted from the hospital).
I saw numerous doctors, paediatricians, naturopaths and herbalists. I tried every cream, homeopathy and probiotic for her and for me.
"We struggled along introducing solids carefully and working on her gut health with different probiotics, bone broths etc. We even tried the GAPS diet. I saw a Naturopath who did Biofeedback, we both had a lot of deficiencies which I worked on this with different supplements and herbal mixtures. She was still breast fed, although not feeding well and not really interested in solids. At nine months she had very red, dry, itchy and bleeding skin, big bags under her eyes and was not really very engaging. She wasn't meeting her milestones, she wasn't rolling, she wasn't sitting on her own, and she wasn't really interacting very much. She was showing signs of Autism at this stage. I had even tried the antibiotics and bleach baths as prescribed by the paediatrician to treat her Golden Staph with no result.
"Over the next seven months she made small improvements and increased her solid intake but was still not thriving and was still scratching incessantly. At 16 months old in August 2018, we had a review with her paediatric allergist and that night I went to a talk by Don Chisholm here in Mudgee. It was the best thing I have ever done! I bought the Hemp+ probiotic and started my daughter on it the next day. I noticed an improvement in her after just two weeks. Her speech improved (as it consisted of simple words such as moo, mum … she suddenly started saying truck, tissue, clock), her appetite increased, and her general wellbeing improved.
I noticed an improvement in her after just two weeks.
"Within three months her skin was clearer, she was running around, climbing, interactive and happy. By Christmas that year (19 months old) four months after starting the Hemp+ probiotic she was talking in full sentences, counting, playing with her sister, happy, eating well and best of all, her skin was clear and she could play in the toddler pool naked without scratching. It was the best Christmas gift I could have asked for!
"She is now three years old, a very intelligent, happy, cheeky little girl, and her allergies are improving—many are non-existent. She is no longer allergic to eggs, can have most nuts, and small amounts of dairy. I truly believe without Don's probiotics I would have a very sick, very delayed little girl. I am forever grateful to Don and cannot recommend Probiotic Foods enough!"
With much gratitude,
Eryn
on behalf of my little cherub, Sage
Mudgee, NSW
May 2020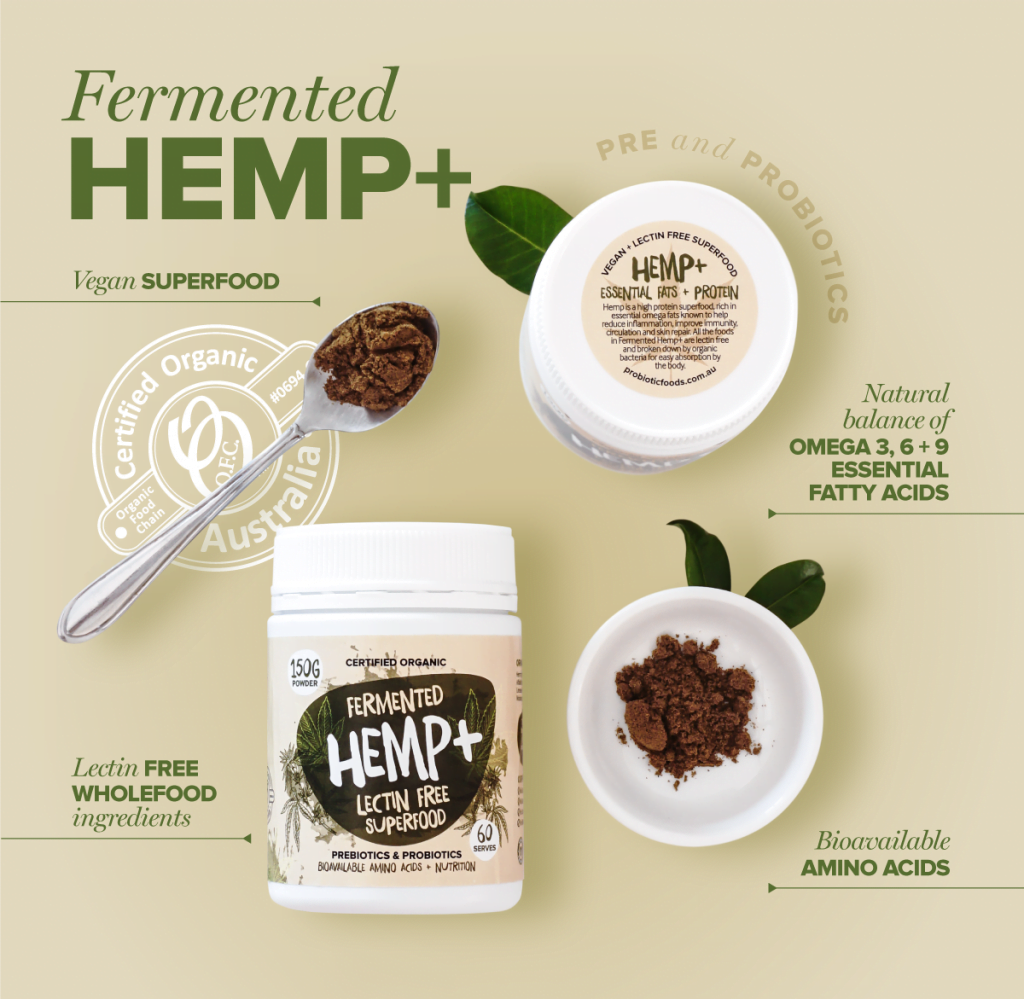 ---
Want to chat to us about healthy skin and your gut?
Call our Gut Help Hotline on (07) 554 66 086.
---
DISCLAIMER: This blog pro­vides gen­eral informa­tion and dis­cus­sion about gut health and related subjects. Whilst every effort is made to present up to date information, the area of gut health and the microbiome are changing constantly. We welcome any comments or suggestions. By reading this blog, you agree not to use this blog as a substitute for medical advice to treat any medical condition in either yourself or others. The author encourages you to consult a health professional before making any health changes, especially any changes related to a specific diagnosis or condition. No information contained in these pages should be relied upon to determine diet, make a medical diagnosis, or determine treatment for a medical condition. The information is not intended to replace a one-on-one relationship with a qualified healthcare professional and is not intended as medical advice. Links to other (third party) websites are provided to you to expand understanding of the subject and are not an endorsement or rec­om­men­da­tion by the author for the ser­vices, infor­mation, opin­ion or any other con­tent on the site or as an indi­ca­tion of any affil­i­a­tion, spon­sor­ship or endorse­ment of such third party websites. Your use of other web­sites is subject to the terms of use for such sites. By reading this blog, you agree that you are responsible for your own health decisions. NO information contained in this blog should be used to diagnose, treat, prevent or cure any disease or condition.The contents of these blogs are copyright and Probiotic Foods is the acknowledged author.