Now that your much loved dog is on Probiotic Foods for Pets, here's a great recipe for healthy dog treats to take their wholefood diet to the next level. All part of the grand plan to reduce the amount of processed foods that everyone in the family eats, including the four-legged ones!
Looking after our pets is just as important as looking after ourselves. Our furry friends provide us with more than we think and its only fair we treat them with love and care. When was the last time you looked at your pet and it didn't instantly enhance your mood? Or each time you come around the corner in the house they great you with as much love and waggy tails even tough you saw them minutes ago! Get creative when making healthy dog treats, just remember to stick with dog friendly ingredients as onions, grapes and chocolate are major no no's! Treat our doggies to an all mighty nutrient dense biscuit snack. Also, great as a gift idea, simply stack them in a jar and tie up with some ribbon, perfect for other dog lovers. And if you really want to make those pooches feel special why not pair your freshly baked healthy dog treats with our Probiotic Foods for Pets. Suitable for all animals, providing those beloved pets a daily dose of balanced nutrients in a highly absorbable form.
Use organic ingredients when possible.
2 1/2 cup organic wholemeal plain flour
2 tsp. aluminium free baking powder
1/4 cup whole rolled oats
1/4 cup grated cheddar cheese
1/4 cup peeled and grated carrot
1 bunch of chopped parsley
1 lightly beaten organic egg
1- 1.5 cup filtered water
2 tbsp. cold pressed olive oil
2 tsp turmeric powder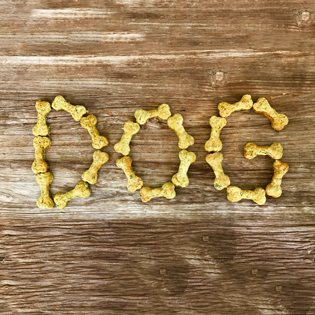 In a bowl mix together the first 8 ingredients. Make a well in the centre and add beaten egg, water and olive oil. The amount of water will vary, mix together to form a sticky dough if its too dry just add more water. Roll out onto floured surface about 1cm thick, you can use fancy cookie cutters or simply cut into strips. Bake in the oven at 160 degrees celsius. Time in oven varies, you want to dry out the bones on a lower heat for 1-2 hours until hardened. Keep in airtight container for two months, if these healthy dog treats last that long! Woof woof!
Recipe by Veronica.
Along with home-cooked meals and treats, we recommend a sprinkle of Probiotic Foods for Pets on breakfast and dinner to ensure your best friends are getting absorbable nutrition.
---
"Our cattle dog Kouta has a history of hip and knee problems. We started him on Probiotics for Pets for general health and wellbeing, but we found that not only did he gain a new level of energy, but his knees and hip soreness seemed to go away. He can now jump on and off the lounge and bed (naughty!), run up and down stairs with much more ease and without wincing from pain. Thank you so much!"
Dorratt Family, Gold Coast, QLD