Flu season is on the way and for some it is already here. Fever, sore throat, runny nose, body aches and extreme fatigue. Tempted by all the advertising to get the flu shot? Last year's flu epidemic was the worst ever, but is the flu shot the best option for your health?
---
According to one study, the flu shot was between 5-33% effective in 2017 (depends on the strain received). Instead of boosting your immunity, research shows flu vaccines can actually lower your immune function, and their side effects can be significant. Since we know 70-80% of immunity is in the gut, that might be a more logical and effective place to start.
Have you thought about a herbal tonic that also contains probiotics to help boost your immunity, naturally? Probiotic Foods now have three Probiotic Liquids, all fermented to create a nutrient-rich bioactive concentrate to assist with immunity, digestion and inflammation. The flu shot as nature intended.
Fermented Olive Leaf Extract
Olive leaf is well known for it's antiviral, antibacterial effects, as a powerful immune booster and flu fighter.
Bio-Fermented Turmeric with Ginger + Black Pepper
These herbs are known for their anti-inflammatory, pain relieving properties for achey joints gut, and skin issues.
Fermented Papaya Concentrate
Papaya fruit and leaf extract support digestion. Rich in enzymes that assist in the breakdown of fats, carbohydrates and protein.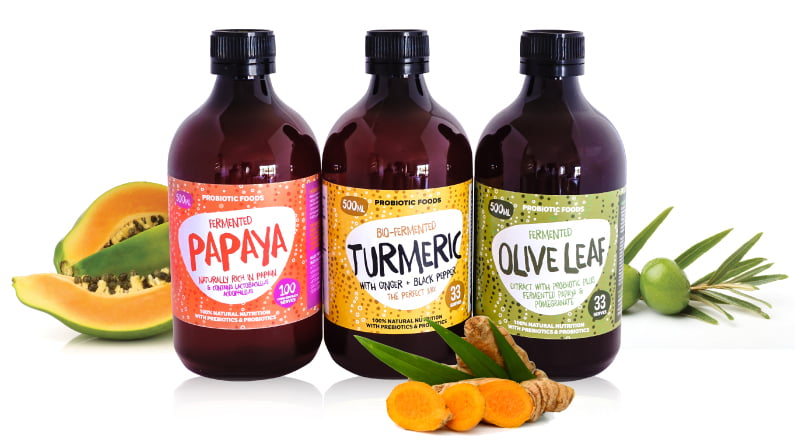 (All of Probiotic Liquids have associated strains of Lactobacillus acidophilus, L. casei , L. plantarum, Bifidobacterium, L. Bulgaricus, L. lactis, L. fermenti, S.boulardii and S. cerevisiae present in the mother culture.)
"The slightest tickle in the throat has me reaching for Probiotic Foods' Fermented Olive Leaf Extract and I find that is all I need. I have not had a full blown cold since I started using this product. It works and it tastes a whole lot better than most. Amazing!"
Bronette Minelli, Townsville

For the ultimate natural flu shot, combine the benefits of Probiotic Liquids with these other healthy habits.
A diet that feeds good bacteria that is high in antioxidants. Brightly coloured fruits and vegetables, resistant starch (e.g. sweet potato) and other nuts, seeds and wholefoods, preferable organic grown in nutrient and microbe rich soils
Healthy fats. Boost immunity with omega 3, 6 and 9 fats from a variety of sources—grass fed animal products, wild caught fish, avocado, coconut, olive oil, flaxseed, chia and hemp oil. Use the bones to create bone broth. It contains collagen, gelatin and important amino acids to strengthen the gut barrier and it's also great for hair, skin, nails and joints.
Probiotics and fermented foods. Get your good bacteria from a natural, certified organic food source and feed them and you with nourishing prebiotics. Probiotic Foods' mother culture is supercharged with multiple bacterial strains, prebiotic rich and nutrient dense, covering all bases.
Vitamin D. Boost your levels with regular sunshine exposure and a supplement is one of the simplest and most efficient ways to improve your immunity and prevent acute infections like the flu. Have your Vitamin D levels tested so you know if you are low you can supplement.
Zinc, iron and colloidal silver. Minerals are foundational for supporting the immune system. Research shows zinc can cut down the time you have a cold by about 24 hour if taken within one day of the first symptoms.
Boost vitamin C and antioxidants. From local fruits and veg in season and other natural forms like camu camu—an Amazonian rainforest fruit—and acerola cherry. These are rich sources of antioxidants and can help boost the immune system.
Add herbs and essential oils to your diet. Oregano, thyme, garlic, ginger, clove, cinnamon and echinacea have powerful antimicrobial effects. Inhale tea tree oil, eucalyptus and peppermint oil and drink hot ginger with raw honey. Raw honey contains probiotics that boost immunity. The gut of bees contains a beneficial bacteria called Lactobacillus kunkeei and is transferred to humans via raw honey.
Chat with us further for immune boosting, natural flu shot alternatives this winter. Call our Gut Help Hotline on (07) 554 66 086.