Can't wait to leave town, have a holiday and ditch the stress of work and family commitments? Once the travel bug hits, it's easy to forget about being healthy—and regular. When you're rushing through airport security, eating plastic-wrapped airplane food, dehydrated and stressed about getting where you're going, don't forget to take your best travel companion—Probiotic Foods.
---
This holiday season, make a choice to be proactive about your health starting with probiotics.
7 reasons why Probiotic Foods are your best travel companion.
No need for refrigeration.
That's right. Unlike other brands of probiotics you can literally leave these in your car, backpack or hotel room. The organic mother culture (bacteria) used in our fermentation process is stable to 50 degrees celsius and freezing. So it doesn't matter if you're going to the tropics or having a white Christmas, the bacterial strains will be alive and well, dormant in their own food source (the probiotics) until you eat them.
Conveniently inside little vegetable capsules.
They deliver pre and probiotics AND nutrition; plugging the gaps of limited food choices when travelling and the inevitable holiday over-indulgence! Pop them anytime day or night.
Struggle with constipation when you travel?
Probiotics can help keep you regular when your body clock is in another time zone. Beneficial bacteria in Probiotic Foods aids digestion and elimination. Just remember to stay hydrated with quality water, especially if you are flying, to counteract the dehydrating cabin environment.
Say goodbye to Bali Belly!
Probiotic Foods contains Saccharomyces boulardii  (SB)—the bacterial strain most researched in the prevention and treatment of traveller's diarrhea and other gastric upsets. It is one of the 14 strains of probiotics used in the fermentation process to create Probiotic Foods.
Probiotic Foods survive stomach acid.
Lactic acid bacteria, such as lactobacillus acidophilus in Probiotic Foods are well-suited to surviving the acidic environment of the stomach. In fact, the word acidophilus literally means 'acid-loving' in Latin. So while you are on the move, so are your gut bacteria, making their way to where they can do their best work, the large intestine.
Maintain some normality.
For when your food is different, your water is different, the bacteria in the air and on the ground is different—bringing your Probiotic Foods as your little piece of home will help you feel your best self.
Because there is so much to see.
To achieve your wanderlust goals you need a happy mind, happy body and happy gut! Holidays are too short to spend time in the bathroom or in bed.
Start taking Probiotic Foods for Everyone Capsules or Womens Capsules a week before you travel building up to 2 in the morning and 2 caps at night and continue while you are away. Or pack the powders in your suitcase to sprinkle on your meals or in your water bottle. Either way, when you are roaming this big beautiful world, don't neglect your gut as it will take care of you.
Take advantage of our Travellers Christmas Bundle here. Shop online before 15 December to ensure arrival before Xmas.
---

"I've been on Probiotic Foods for Women for more than two months now and the longer I am on it the better I feel—more energy and more comfortable in my digestion. When I miss my morning capsules I really notice it!"
Vanessa, Victoria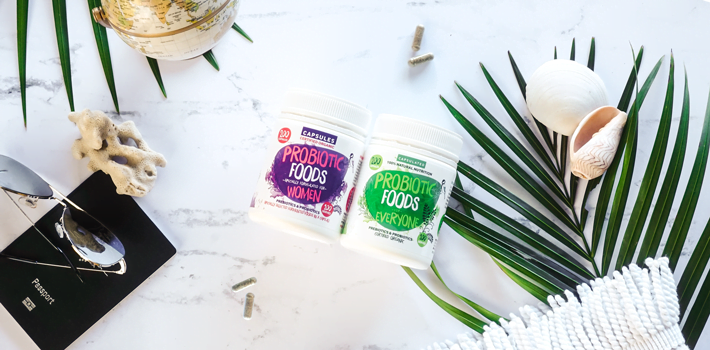 SaveSave
SaveSave